Product Description:
This bullhorn bracket is made of aluminum. The bottom portion has a 2 1/2 inch
Steel Bullhorn Bracket, Pole Top Mount, Outdoor Light Fixture Mount, 90 Deg. Quad Bullhorn for 4 or Flood Lights, Shoebox Lights, Street Lights with Slip Fitter Mount(2 3/8inch)
4" round pole bracket,carbon steel,gloss bronze/ Base:6 Screw holes
for 3/8''-16/ Tenno: 4 x horizontal tennon,triple 120D,OD60


·STURDY CONSTRUCTION - Heavy duty steel design with double strength welds ensure the bracket lasts the test of time. Double reinforced weld joints, fade resistant bronze polyester powder coating weather resistant polyester powder.
· WIDELY USE - This steel bullhorn bracket is designed to mount atop wood, steel, and concrete poles. Great for slip fit shoebox light , parking lot light, flood light or other outdoor lighting fixture.
· EASY INSTALL - Easy to replace old units or for new installation with the pole top mount. All screw mounting accessories is included.
· 4 LIGHTS PER POLE OR TENON - This bullhorn adapter allows you to put four slip fit mount lights on a single pole for more even lighting or to light in four directions.
· QUALITY AND WARRANTY - All of our adapters are heavy duty and designed to stand up over time, incredible quality with 5 years warranty.



Dimension: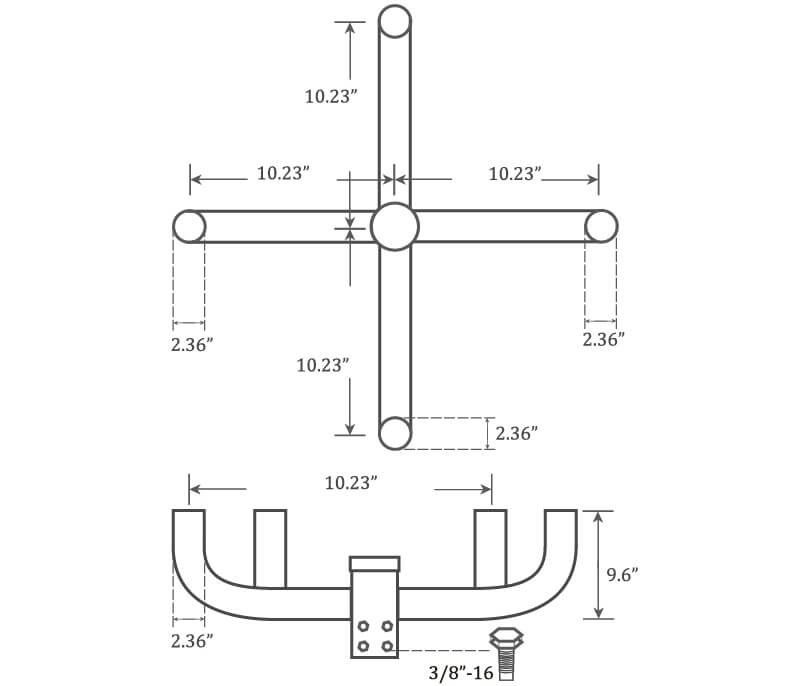 Packing:
Packed in cartons, the same type of products are packed together or different products packaged together.


Transportation:
For LED lights export, our main modes of transportation are air and ocean, the transit time will be 4-10 days for air or 25-30 days for ocean.
International express includes 4 types: FedEx, DHL, TNT, UPS.
Domestic express includes SF, Sto, YTO, ZTO, Baishi, and Yunda Express, Transit time 3-5 days.